Wednesday, January 12, 2011
Today I will be going into the kitchen of Elizabeth from the Guilty Kitchen blog. I discovered Elizabeth's blog a while ago while reading SimpleMom and Food Blog Forum, jumped over and instantly loved it.  When you enter Guilty Kitchen your first thought is, that the pictures are memorizing, but there is more.  Elizabeth has an amazing food blog where she tries to focus on seasonal ingredients that she can by locally.   She is also a great writer and you can read about her Tips and Tricks, FAQ's or just go and look at her amazing photography.
Picture from Guilty Kitchen
How long have you been cooking and who was the person who encouraged you to come into the kitchen and learn about food?
I have been cooking since I was just a little kid. My parents both worked full time and often they didn't get home in time to cook dinner. My Mother would leave very detailed step by step instructions on how to cook whatever was for dinner. That led to me picking recipes from her cookbooks and following those myself. Then when I became old enough to get a job, I went straight to the kitchen as a dishwasher at a fishing lodge. I took a few cook's training classes in high school and worked my way up the kitchen ranks at the same time. My Mother and all the chefs I've worked with were my biggest inspirations. When I had my first child is when I really started to get into where my food came from and how it was raised.
Why did you decide to start a food blog?
I started my blog in June 2009. Mostly it was a love of good food and wanting to share that with as many people as possible. I had been wanting to buy a new dSLR camera too, and buying it prompted me to start taking pictures of my food.
Do you have a signature dish? What is it and how did you come up with it?
Picture from the Guilty Kitchen
I have two! My signature dessert is my Idle Hand Bars. They are a bar with a base of chocolate and crushed pretzels. Then the middle layer is a peanut butter frosting type layer, followed by a crown of dark chocolate and pink sea salt. They are fabulous and I get requests for them ALL the time. I also give them out at Christmas time. Some people liken them to Nanaimo Bars, but they only look like Nanaimo bars, that's where the similarities end.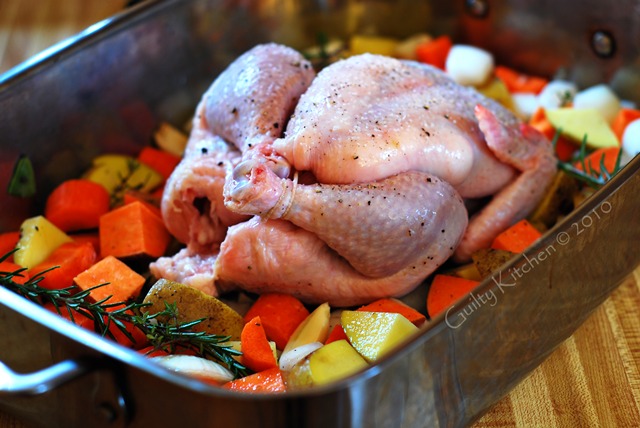 Picture from Guilty Kitchen
My other signature dish is roasted poultry. Turkey, duck or chicken. I am really good at making the bird crunchy and delicious on the outside and moist and flavourful on the inside. I make it a lot.
Since you write a lot about local and seasonal produce. What eatables do you have in your backyard?  Any advice for first time starters?
Picture from Guilty Kitchen
Winter vegetables are not my specialty, as I am a new gardener and I have a lot to learn myself! I do live in a great area that rarely goes below freezing though, so this year I plan on having a year round garden as much as possible! I do have kale growing at the moment, that's it. What I do have going strong are my backyard chickens. We have four, two heritage breed Americaunas and two ISA browns. They produce a lot of eggs this time of year so we are eating a lot of egg based dishes. My advice to people starting out is to build the coop from as much recycled material as possible. We bought everything at a place called ReStore where building supplies are taken once being removed from old building sites. It cost less than half the price of buying a pre made coop or using brand new material.
Living in Seattle, WA I am very familiar with Vancouver Island, but I did not know about it until I came to Seattle.  Tell us about this place.

Picture from Guilty Kitchen
Vancouver Island is a little slice of paradise on the West coast of Canada. Most people have never heard of it. But the whole island is 460 km long (290 mi) and has a population of about 750,000. I live near the southern tip on a lake that houses mostly summer vacationers, though we stay year round. Much like Seattle, we live in a temperate rain forest but it doesn't get too cold very often. Snow is a big treat for us, as we don't see it very often. Rain on the other hand is abundant during the fall, winter and spring. There are many outdoor enthusiasts who love coming here for year round surfing, camping and hiking. Though many people think Vancouver is the capital, it is actually Victoria, which is the biggest city on the island (about 400,000 people). I love it here, and have lived on the island my whole life.
If you could sit down and have a dinner with a celebrity chef, who would it be, why and where would you take them to eat?

Picture from Getty Images
I'm not too big on celebrity chefs and I don't watch the Food Network too often either, but if I had to choose a chef to eat with, it would be either Anthony Bourdain or Alice Waters. Tony, because he would be a great person to have a conversation with, no holds barred. If I had a choice from anywhere in the world to go to eat with him, I would go to some exotic tiny village and eat whatever the locals eat. Alice Waters because I truly respect her vision for eating local food and I think she would be interesting to speak with. I would take Alice to a local restaurant here in Victoria that uses just about everything from as close to its location as possible. Spinnakers Gastropub, it's one of my favourites and I also used to work there.
What are three things people don't know about you?
A lot of people don't know that I had major spinal surgery when I was 13. I have very limited use of my flexibility in that area but I managed to have two kids naturally and continue to work out daily using the Insanity workout DVDs. It's tough because if I don't work out I have terrible back pain, but the workouts sometimes hurt my back too. Damned if you do, and damned if you don't I guess. I'd rather be healthy than not though.
Another thing a lot of people don't know about me is that I hate bell peppers. Even the sweet ones. I tolerate them, but mostly I just don't like them at all. You won't find many recipes featuring them on my site.
I'm afraid of the dark. No seriously. Don't laugh. When I get up to pee in the middle of the night and have forgotten to turn a light on so I can see, I freak out and rush around like Freddie is waiting around the corner.
What is your favorite kitchen gadget?

Picture from Microplan.com
I love, love, love my Microplane and use it almost daily, but I am also in love with my new cast iron Dutch oven. I use it a lot.
Describe your death menu. (Last meal before you die)?
Picture from Guilty Kitchen
I've had to think about this before, so I am prepared! There's no worry about calories when you know you are going to die, so I go all out. Here it is:
Your photography is amazing. How did you learn?

Picture from Guilty Kitchen
It's all about practice. I sucked when I first started out. If you look back at early recipes on Guilty Kitchen, the photos are horrendous, I just didn't have the skills yet. I read a lot of photography blogs, study others photos and just do what feels right. Also, when you buy a camera, read the manual. All of it. There are so many wonderful tips just in the manual.
I love your Tips and Tricks question on your blog.  If you could only give one to all your readers, what would it be?
I think if I had to just give one it would be the piercing of meat before cooking. Don't do it! Do not ever pierce any meat before cooking. Use tongs with steaks and small cuts. Piercing your meat allows all those lovely juices that keep meat moist to run out all over the place and your meat will end up drier than you want.
You are a SimpleBites.net contributor, what advice would you give to other food bloggers trying to succeed.
Networking, it's all that matters. There is a huge community of food bloggers out there and they are all struggling to have their voice heard. Having your voice heard in as many places as possible is what is going to bring in readers. Join Twitter, get a Facebook Fan page, comment on other blogs as often as possible and just be a part of the conversation. There's plenty of room for everybody.
I want to thank Elizabeth for letting me in her kitchen! Thank you!